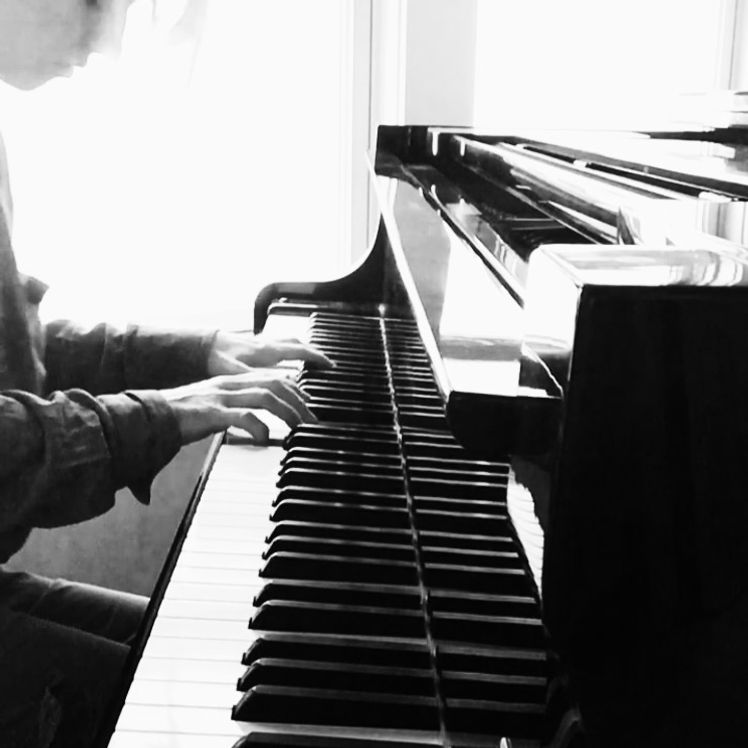 Artist Statement:
Whether painting at my easel or composing at the piano, I am most often exploring my own inner world and imagination. Expressing strong emotions and passion in the moment as I experience them is the lynchpin to my compositional and creative process. Feeling my emotions is what drives me to write music. When I am in alignment, those first notes often have an intelligence and genius that is beyond me, and I give deference to them.
BIO:
Karan Karla Aron is an American pianist-composer and visual artist from Little Rock, Arkansas. Her mother enrolled her in piano lessons when she was 8. 
She joined the school band program when she was in junior high school. The band director brought out a musty old case from the instrument storage room and presented it to her. It was a bassoon. No one else played it nor even wanted to, and that made her all the more smitten with the idea. He sent her home without much more than a reed and fingering chart for her to work out on her own.
In high school, the band needed an oboist for a solo. So, she learned to play oboe.
She went on to study music at the University of Central Arkansas, first majoring in oboe, which was not her first love. By the end of her Freshman year, however, she had changed to piano performance.
During undergrad, she honed a particularly romantic and passionate style of playing piano. She also had early success in composition. Her chamber piece entitled,Three Songs On Emily Dickinson Poems for Piano Trio and Voice, was selected for first prize in the school's composition competition. The award also granted some private instruction with Arkansas composer, Robert Boury. His encouragement of her work continues to be a pivotal influence in her compositional work today.
Aron studied piano performance at the University of Kansas where she received a Master of Music degree.
The years following graduate school were difficult. She tried to find her niche by dabbling in jazz and playing local gigs with a bass player. Feeling dissatisfied with her music trajectory, she pulled a wild card and applied for law school.
She graduated from the University of Wyoming College of Law, studied for the bar and began practicing law in civil litigation. After about 4 years, she left the practice to return to music.
Aron recently finished a Performing Artist residency with Charlotte Street Foundation in Kansas City, Missouri where she worked on a musical and performed her original music in small ensembles. She lives and works in Lawrence, Kansas, with her husband and their two tabbies.